Getting top 10 rankings or tons of visitor traffic to your website is useless if it is not generating revenue. In a majority of cases, we need lead generation via opt in form, contact us form or some other mode of inquiries raised by these website visitors. Only if you're making money by display ads, then this traffic is already making money for you and you are sorted. Let's talk about those who need these website traffic to be converted into leads with some action of lead generation.
Here are the top 3 areas to be worked upon if you are getting good website traffic yet not getting any or expected lead generation. In fact, ask below questions to yourself:
Is your website optimized? For your audience?
We all spend a lot of time, efforts and money for making website SEO friendly, which is essential. However, you just can't deny a fact to optimize website for your audience and web visitors. The website should be easily understandable, navigational and meet other criteria to be a user friendly website. If you have already performed website optimization and still not getting lead generation, this is the time to look for missing pieces to get fixed. Remember when you can't find any issue; take the help of an outside digital marketing expert because an unbiased eye will see what you overlooked.
Is your call to action clear?
Call to Action is a way to give a clear hint to your web visitor how to take the next action! How to reach you? Or what should be done for the next step? The CTA aka Call to Action plays a pivot role in converting website traffic into leads. Even if you have great content yet if you failed to put an effective Call to Action, the visitors will read the content and leave. You need to consciously push them for the next step.
Is raising an inquiry easier?
If you think I'm asking you to put contact us form and phone number, then you're mistaken. We all put it to get inquiries as common practice. I'm asking you to ask yourself below questions:
Is it easy to find the contact form/details from any page of the website?
Is your contact form simple?
Is your contact form error free?
And the most important question,
Are you asking minimum possible information?
You have to hold the urge of asking everything in one round. People get hesitant to share all the details and personal contact details with a threat to get bothered with unnecessary calls/emails. Keep your contact form simpler, with minimum fields. This will increase your lead generation ratio by 27-89%.
These are the top 3 areas to work upon if you have good keyword rankings; great content and remarkable traffic, but still not getting lead generation from website traffic.
Do you have any question? Digital Marketers India will be happy to answer. Contact us with your questions today!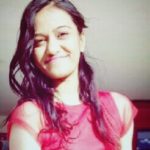 Ashvini (Ash) Vyas has 12+ years of practical experience in digital marketing and international business development. She has written 100s of articles on various topics to live her passion of helping people with her knowledge and expertise. In addition to directing Digital Marketers India, Ash also delivers keynote sessions and holds key positions in some international companies as a consultant, director of operations and mentor.